Hi there, I just joined last week, and here's my current progress pic: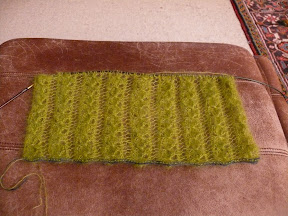 I'm knitting the melon shawl, too, in Rowan Kidsilk Haze, colourway jelly. It's actually the yarn used in the book, I'm just using the 5 skeins I've got, knitting 9 instead of 7 repeats of the melon pattern in the middle.
This will be the first lace project I'm just knitting for myself, and I love both that pattern and the yarn. And oh, the colour.