Hi! I'm Hope. I've been here a week or so but this is my first post. Like so many of you, I got VLT as a Christmas gift: I guess we were all good last year!
I am currently working on "Scarf." That is the name of this pattern "scarf"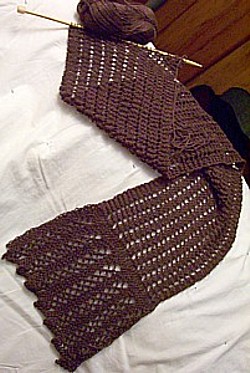 This yarn is Bernat Crochet Cotton a 70/30 blend of Cotton and Acrylic. It looks very nice on the body of the scarf, but I'm not sure about the ends. They need to open up a bit and I'm not sure it's going to block. I knew it was a risky choice when I started it, though; I think I was just dazzled by the shiny chocolate color.
Although this is my first project from this book, in a way it is my second, because last year I made Victorian Ruby when it first appeared in Knitter's Magazine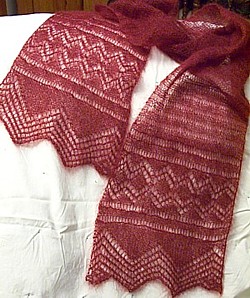 For it I used the requisite Kidsilk Haze, which I love, in the color "liqueur." I wear this scarf almost every day. I am so excited to make more that are similar.
My next project is going to be the melon shawl. For it, I ordered some Crystal Palace Kid Merino in the roses variegated shade. I can't wait!