Finished this two nights ago and it was hanging on a hanger until about an hour ago
I'm pretty pleased with how it turned out. I decided, in terms of blocking, that all I was really looking for were nice points on the edging. So, I wet it thoroughly, spun it in the washer and put it on the hanger, tugging down the points good and sharp. When it was dry, it looked fine.
The only thing I'm not happy with is this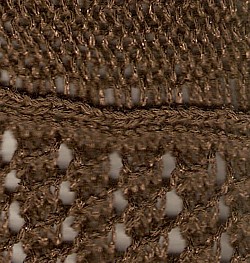 the join for the second edging, where it is knit onto the body of the scarp. There is a significant row of stitches across there that does not exist on the Victorian Ruby. I think it looks a little clunky. I don't think I did anything wrong, I reviewed the pattern several times. Kathryn, is yours the same way?
My yarn has not yet arrived for the Melon shawl, and so I knit socks until it appears.